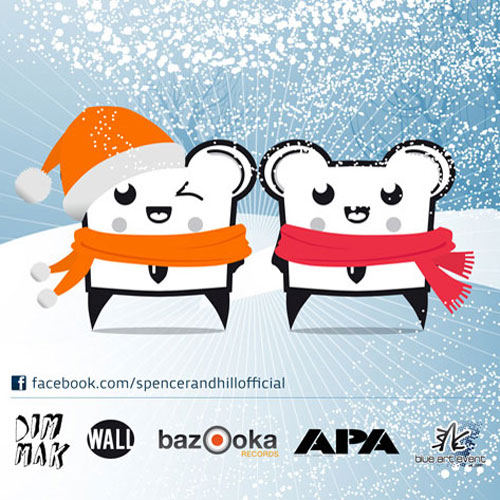 Spencer & Hill is currently one of the highest acclaimed dance-electro projects within the international club scene.
The impressive amount of national and international dance chart toppers like e.g. "Housebeat","Right On Time" and "Cool", within the last decade makes them part of the elite of electro-dance producers worldwide.
Lately, Spencer & Hill proved their incomparable sense for sound and trend setting abilities by e.g. "Yeah Yeah Yeah", which shot straight to Top 1 on Beatport and into the Top Ten of the most important European Dance Charts.
Tracklist:
1) Steve Lade & Xspectiv – Our World Is Here
2) Sidney Samson – Music Box
3) Avicii – S&H Bootleg
4) Virtu – Elixir
5) David Guetta – Titanium ft. Sia (Alesso Remix)
6) Spencer & Hill ft Nadia Ali – Believe It (CAZZETTE's Androids Sound Hot Remix)
7) Pallada – Rock That Shit
8) Far Too Loud – Megaloud
9) Justice – S&H Bootleg
10)Paul van Dyk – S&H Bootleg
11)Elite Force – Be Strong (The Loops Of Fury Mix)
12)Rune – Bootleg
13)Deadmau5 – S&H Bootleg
14)Tim Berg – S&H Bootleg
15)Tv Rock – S&H Bootleg
16)Bingo Players feat. J2K & MC Dynamite – When I Dip (Apster Remix)
17)Chuckie – Who Is Ready To Jump (Original Mix)
18)Zedd – S&H Bootleg
19)Felguk – Bassive
20)Dirtyloud – Unleash The Scary Side (Felguk Mashup Mix)
21)Plump Djs – Gobbstopper
22)LMFAO – Sexy And I Know It (The Mavrik Remix)
23)Skrillex – Reptile Theme (Bertie Dastard's Jumpin' Edit)
24)Rusko – Everyday (Netsky Remix intro bomb)
---
Related Content:
Leave a comment: